Are you looking to get some cruises on your calendar in 2023? Then you're in luck, because it's Wave Season! From January to March, you can find some of the best cruise deals of the entire year. That can mean anything from deeply discounted fares to free land or airfare to included amenities such as Wi-Fi or beverage packages.
If you're looking to cruise this summer or fall (or even Christmas!), NOW is the time to book. Not only will you get the best cruise deals, but if you wait much longer, ships will start to fill up, and then prices will skyrocket. Supply and demand, you know?
Here are a few of the best Wave Season cruise deals I've found – plus, my exclusive Virtuoso add-ons that you won't find anywhere else!
Wave Season Cruise Deals 2023
Celebrity Cruises
Celebrity Cruises sails around the world – from the Caribbean to the Mediterranean, from Alaska to the Galapagos. Wherever you want to go, Celebrity can take you there.
What's the deal?
Up to 75% off a second guest
Up to $800 in onboard credit per stateroom
Free specialty dining for two per balcony stateroom
Who's it good for?
Girlfriend getaways with a relaxed, luxurious vibe
Parents and grandparents who want to spend quality time with the family
People who appreciate all-inclusive beverages, Wi-Fi, and gratuities
When does this offer expire?
Virgin Voyages
If you're searching for adult-only cruises, search no more. Virgin Voyages can take you to the Caribbean, the Mediterranean, Australia, and New Zealand – with no kids allowed onboard.
What's the deal?
60% off a second guest
Up to $600 Bar Tab (aka free drinks)
$100 Sailor Loot (aka onboard credit)
Anytime boarding at the departure port
Who's it good for?
Adults who are craving a kid-free vacation
Solos who want to socialize
Anyone who loves to party
When does this offer expire?
AmaWaterways
AmaWaterways is one of the best European river cruise lines. They sail the rivers of Europe, from the Rhine to the Seine to the Danube, offering authentic experiences and specialty sailings that focus on wine, food, music, or ancestry.
What's the deal?
Free pre- or post-cruise land packages for up to four nights on select sailings
Complimentary prepaid gratuities for balcony rooms
Airport transfers in Europe for suites
$100 onboard credit per stateroom
Who's it good for?
People who want immersive experiences
History buffs, wine enthusiasts, and culture connoisseurs
Anyone celebrating a special event, like a birthday or anniversary
When does this offer expire?
Paul Gauguin Cruises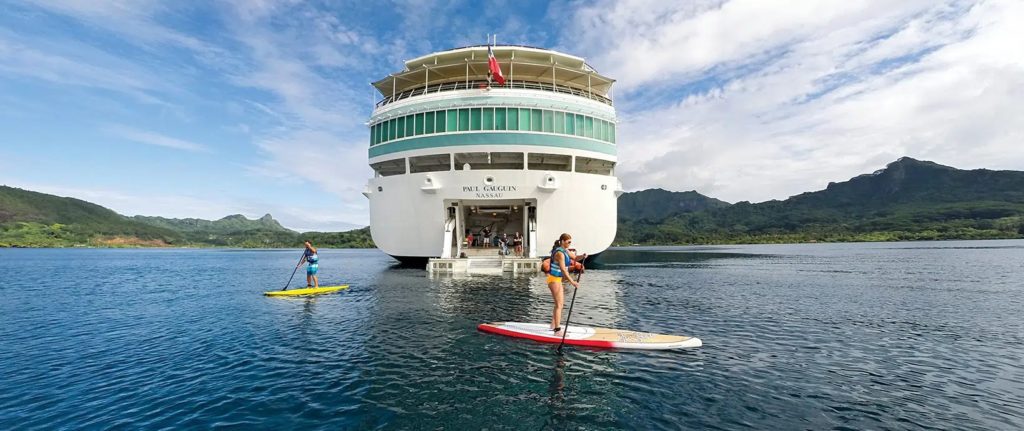 These luxury cruise ships sail exclusively in the South Pacific and French Polynesia. If you've ever wanted to cruise to Tahiti, Fiji, or Tonga, this is the way to do it – on a small, luxury cruise ship that offers award-winning dining, overnight stays, and exciting excursions.
What's the deal?
$100 onboard credit PER PERSON (not stateroom!)
Additional spa credit of $100
Free bottle of champagne and delicious chocolate treats
Who's it good for?
Families seeking adventure
Couples seeking romance
Travelers seeking a new destination they've never explored
When does this offer expire?
The Benefits to Booking with a Cruise Travel Advisor
While all types of vacations go more smoothly when a trusted travel advisor is on your side, you'll definitely benefit from my expertise and connections when you're planning a cruise. What do I help you with?
Choosing the Right Cruise
There are so many cruise lines to choose from – but they're not one-size-fits-all. Different cruises cater to different ages, interests, and traveling styles. As an ASTA Verified Travel Advisor, I've got the insider knowledge to match you to the cruise line that's perfect for you – as well as helping you narrow down which destinations you want to visit.
Getting Exclusive Cruise Deals
Those deals I mentioned above are just a sampling of some of the exclusive rates and amenities I can offer you as a cruise travel advisor. From special Virtuoso group fares to complimentary specialty dining to prepaid gratuities to anytime boarding, you can't find these benefits anywhere else.
Keeping Track of Moving Pieces
There's a lot more to planning a successful cruise vacation than booking the cruise itself. You've got to consider flights, hotels, and transfers. Also, do you know the entry requirements for each port you're visiting? What about the best excursions to make the most of your time? I can help you with all of this.
Book Your 2023 Cruise with Novel World Travel
Don't put your dreams off for one more minute. Send me a message now and we can get started planning the perfect cruise to make 2023 your best year yet.