With passport turnaround times being completely out of control right now, you might be wondering if you can cruise without a passport.
Short answer? Yes.
Long answer?
Look. I'm just gonna say this now: everyone should have a passport. Even if you don't ever plan to fly overseas, a passport is an important form of identification – not to mention solid proof of US citizenship.
But if you don't have one right now, that doesn't mean you have to miss out on the cruise life. There are plenty of cruises that don't require a passport. And some of the itineraries are really cool. Check them out below. (And let me know if you want more info on any of them!)
1. Cruise to the Hawaiian Islands
If you live in the continental United States, a vacation to Hawaii means a long flight. A nonstop flight from the NYC area to Honolulu is upwards of 11 hours. Even from San Diego, you're looking at a over 6 hours. That's a long time to be sitting on a plane.
So why not cruise your way to Hawaii?
Princess Cruises offers a round-trip cruise from San Francisco to Hawaii. Instead of spending hours cramped in an uncomfortable airplane seat, you can spend a few days enjoying all that Princess has to offer onboard – like pools, spas, and Broadway-level entertainment. Then after, you cross the Pacific, you'll get to explore Kauai, Maui, Oahu, and the Big Island, before sailing back to California.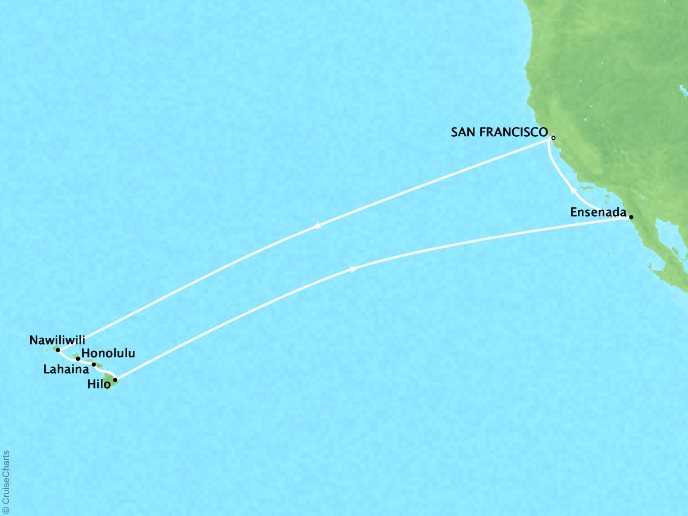 2. Explore North to Alaska
If you'd rather go north than south, there's nothing quite like a cruise to Alaska. Honestly, there's no better way to view glaciers and wildlife than by sailing through the Inside Passage.
And this incredible itinerary on Holland America will take you to see the best of Alaska in Glacier Bay.
What's so special about Glacier Bay? It's one of the largest protected regions in the world, teeming with abundant wildlife, beautiful fjords, and – of course – glaciers. Only two cruise ships per day are even allowed to enter Glacier Bay – and the Alaska Explorer from Holland America is one of them. Sail round-trip from Seattle, and you won't need a passport.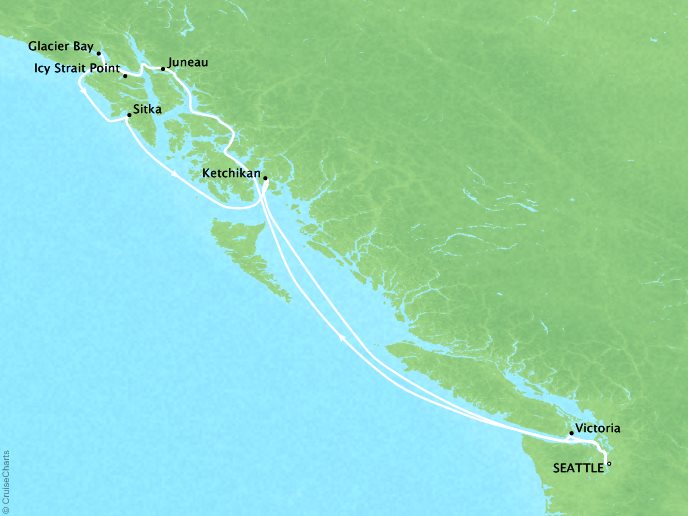 3. Drift Down the Mississippi River
A great way to cruise without a passport is to stay away from the oceans. River cruises are really popular right now. Try exploring the Columbia River, Snake River, or the mighty Mississippi.
Viking offers an amazing cruise along the Lower Mississippi. The Heart of the Delta itinerary takes you from New Orleans up to Memphis, allowing you to visit historic mansions and sample regional cuisines along the way. And you can easily extend your stay on either end, by customizing your vacation with extra nights in the Big Easy, Memphis, or Nashville.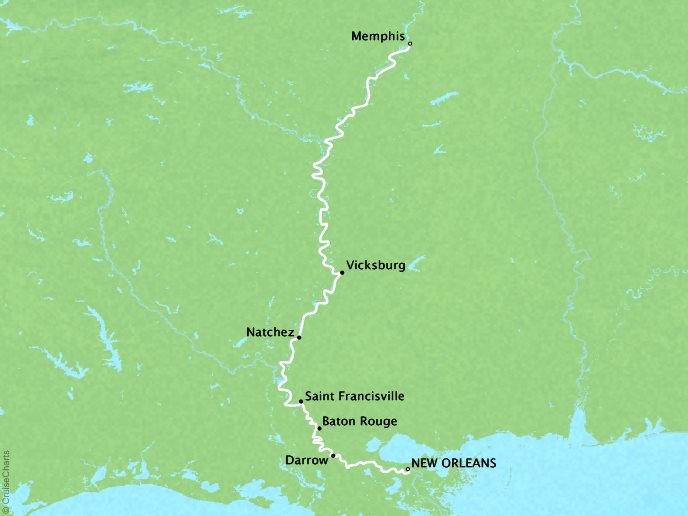 4. Check Out Coastal Fall Foliage
There's nothing quite like the vibrant hues of yellow and orange that speckle the New England coast during the fall. But leaf-peeping has become so popular that it's not uncommon to experience significant traffic on the roads.
Why not avoid all the bumper-to-bumper rubbernecking with a coastal Fall Foliage cruise?
Royal Caribbean offers a seasonal cruise up the coast of Canada and New England designed specifically for taking in the colors of autumn. Travel round-trip from New Jersey to visit Massachusetts, Maine, and Nova Scotia. Imagine all the delectable seafood! Just the thought of it's making me crave a lobster bake.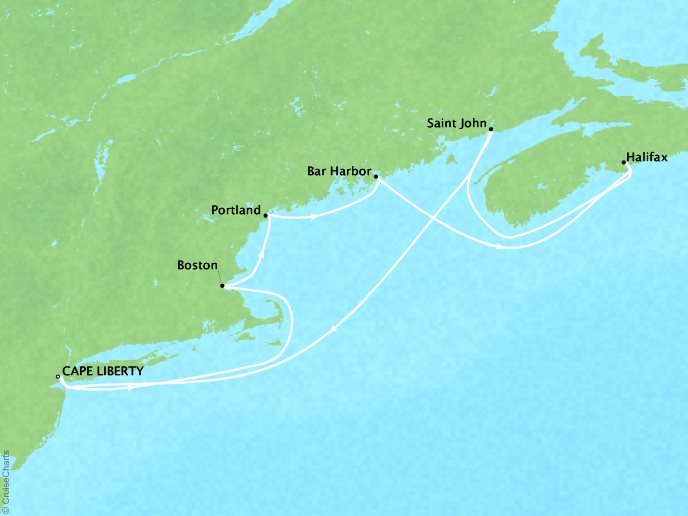 5. Sunbathe in Key West & Cozumel
But what if you're craving a good old-fashioned sunshine-filled cruise, filled with beaches and pools and tropical drinks? Well, you can totally make that happen.
There are a lot of round-trip cruises out of Florida that fit the bill, but I'm partial to Celebrity Cruises. This five-night itinerary leaves from Miami and visits Key West and Cozumel – two of my favorite spots to cruise to. After strolling down Duvall Street and sampling some key lime pie, head on over to Cozumel where you can lay on the beach or ferry it over to Playa del Carmen to explore some Mayan ruins at Tulum.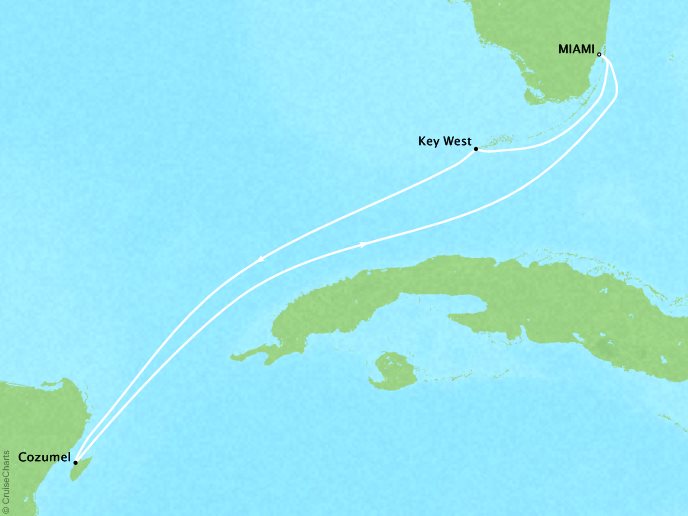 FAQs: How to Cruise Without a Passport
Where can I cruise without a passport?
In general, US citizens are allowed to sail on closed loop cruises that depart from and return to a port in the United States. Of course, there are always exceptions to this rule, so it's important to check with your travel advisor prior to booking your cruise.
What documents do I need to bring instead of a passport?
If you're not cruising with a passport, you'll need an official US state-issued birth certificate (not a copy!), as well as valid driver's license or government-issued photo ID.
Is it safe to cruise without a passport?
In my opinion? No. If you get sick and are forced to debark in a foreign country, it'll be really hard for you to get home. Even if you're going to Alaska, it's a risk. I've personally seen someone get airlifted off a ship and helicoptered to a hospital in Canada. And you can't fly back to the United States from Mexico or Canada without a passport book.
Plan Your Cruise with Me
As a professional travel advisor, I always recommend that my clients cruise with a passport. If you have questions about these requirements, or you need help planning your next cruise, shoot me a message. I'll be happy to help you with whatever you need!