If you're going on a cruise to Alaska, odds are you'll be making a stop in Juneau. Alaska's state capital is a hub of activity and a super popular port of call on pretty much every Alaska cruise itinerary.
When I visited Juneau last summer on Royal Caribbean's Quantum of the Seas, I had a really hard time deciding what to do while we were in town. Shore excursion options abound – from flightseeing to dogsledding to walking on a glacier.
Here's the rundown of how we ultimately spent our day in Juneau – and what I'd love to do the next time I return.
What to Do in Juneau on a Port Day
Hang with Some Sled Dogs
It's no secret that I'm a dog lover. So when we booked our Alaska cruise, it was a top priority for me to interact with some sled dogs. After all, dog mushing is the official state sport of Alaska, and after my son read a book about the Iditarod, he was raring to meet some pups, too.
When it comes to dog sledding excursions in Juneau, there are basically two options:
Take a helicopter to a dog sled camp on top of a glacier, or
Visit the doggos at their summer home in a picturesque mountain valley.
We chose the latter, both because it was significantly less expensive, and because I'm not particularly fond of helicopters.
As soon as we docked in Juneau, a van whisked us away to Sheep Creek, home of the Gold Rush Dog Tours summer camp for sled dogs.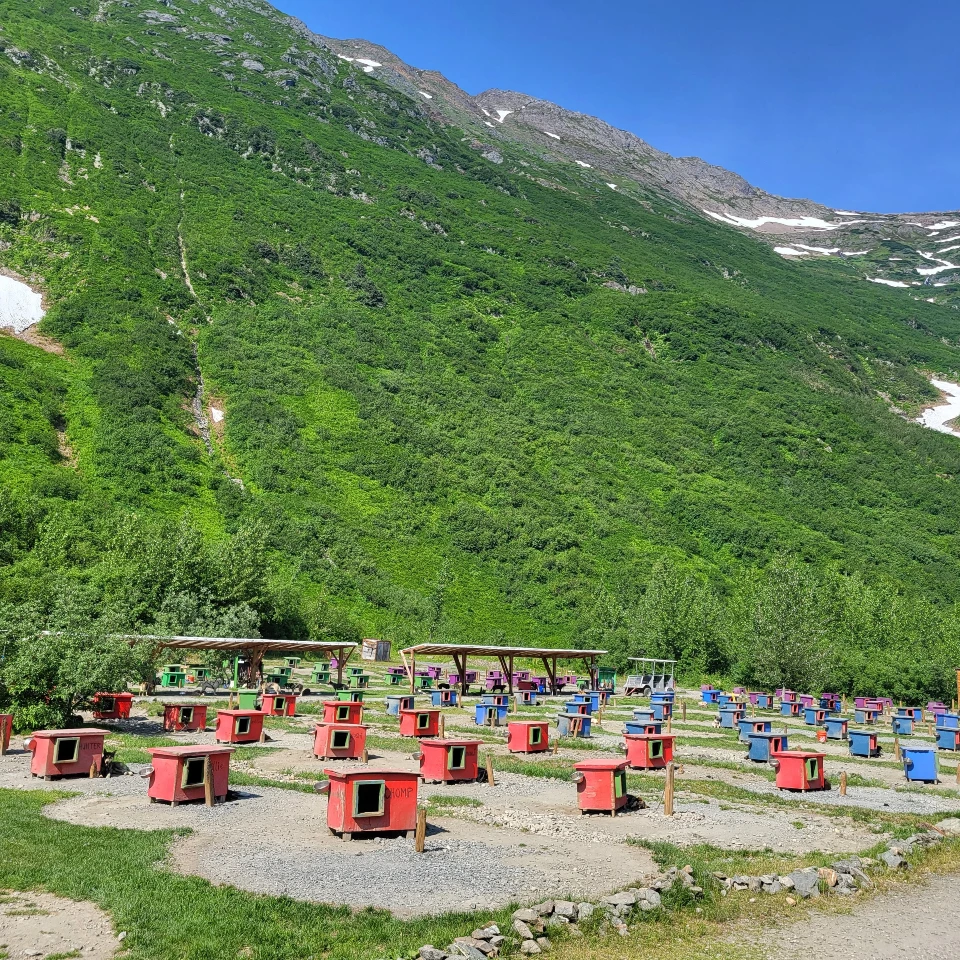 After a brief introduction to the history of dog sledding in Alaska, we were introduced to the dogs and allowed to play with them. They were super friendly, but also super energetic. You could tell these dogs were bred to run.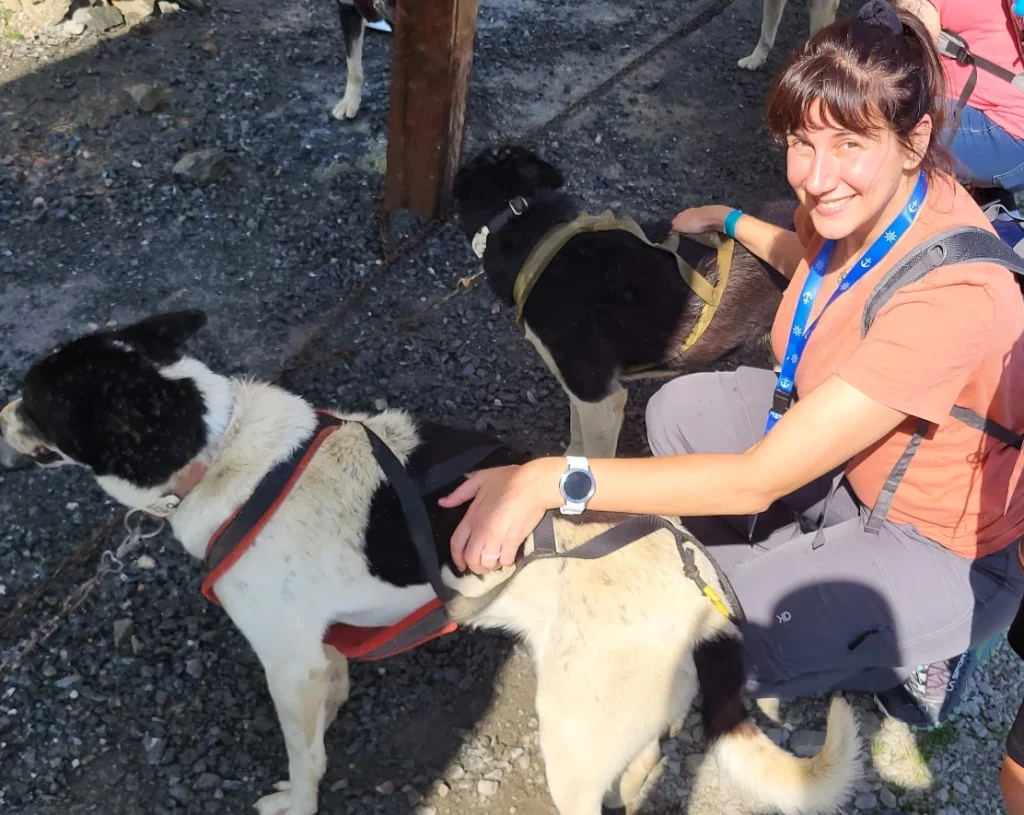 After we all became acquainted and slobbery kisses were administered, it was time to get to the good stuff: dog sledding!
Except this was dog sled summer camp, where there was no ice or snow. Which meant instead of being pulled in a sled, we were pulled in a wheeled cart. And man, it was so fun.
When it was over, we got to hold puppies – I'm still kicking myself for not getting any photos of me holding a tiny sled dog puppy, but I was living in the moment, okay? – before being driven directly back to the port.
Walk Around the City of Juneau
The sled dog summer camp excursion probably took about three or four hours, tops, which meant we had plenty of time to explore downtown Juneau. The city is easily accessible from the port, with plenty of shops, restaurants, and points of interest right across the street from your disembarkation point.
If you're looking for free things to do in Juneau while you're docked for the day, try strolling around the streets, popping into shops, or even taking the city bus to Mendenhall Glacier (not free, but cheap).
Downtown Juneau is also a great place to grab some local grub. Which is exactly what we did for lunch.
Eat at Tracy's King Crab Shack
Tracy's King Crab Shack is a Juneau institution. Located a stone's throw from the cruise port, you can't miss it. Look for the big red shack with the crab on the side.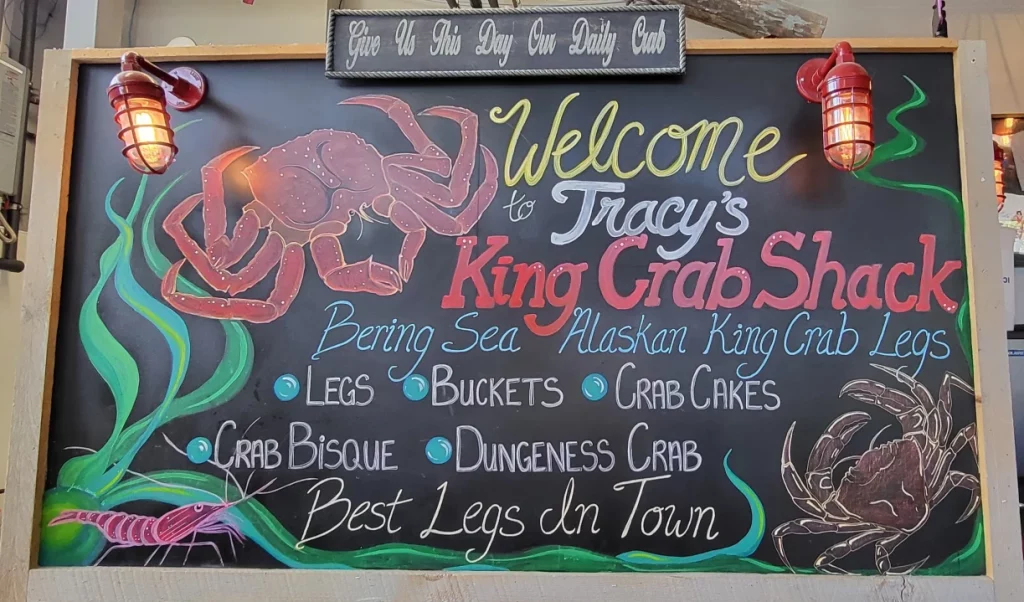 There are a number of crab-related items to choose from on the menu – crab bisque, crab cakes, crab rolls – but we chose to get the bucket. It's contents were simple: cole slaw, buttered rolls, and the biggest crab legs I've ever seen.
Words cannot adequately convey how sweet, tender, and velvety these crab legs were. I've never been a "crab" person – I mostly got these for the experience – but I've been daydreaming about these delicious appendages ever since I ate them.
Don't let the long lines deter you. It was well worth the wait. Also, well worth the price. Because I will warn you: these crab legs are not cheap. But you won't ever taste anything like them anywhere else. If you're a seafood lover, I cannot recommend this place enough.
Other Juneau Shore Excursions
While dog sled summer camp was always number one on my list, there were a few other shore excursions in Juneau that I wish I had time for. Here are a few other options I've been mulling over for my next Alaska cruise (and there will be a next one):
Mendenhall Glacier Lake Canoe Tour. I originally signed up for a canoe excursion in Skagway, but it got cancelled. I would love to do something like that again – and canoeing up close to a glacier seems perfect.
Whale Watching. As a travel advisor, I've found whale watching to be a divisive subject. Some people find it to be a fascinating communion with nature; others find it boring as hell. I actually like it, though, so it's on my list.
Juneau Gold Greek Salmon Bake. As you can probably tell from reading this blog, I love to eat. So an all-you-can-eat fresh salmon bake in the salmon capital of the world? I'm there.
Let's Plan Your Alaska Cruise
Ready to conquer the Last Frontier? With so many different ships and itineraries to choose from, you want to make sure you select the one that's right for you. I take the time to get to know you, your travel styles, your desires and hopes and dreams for your travel experience – and help to make them a reality.
Let's set sail to Alaska! Send me a message to get started today.