Everyone is entitled to enjoy their cruise vacation. After all, cruising is the best possible vacation there is. That's why I'm a Special Needs Group Certified Accessible Travel Advocate. It means I do my very best to ensure my clients requiring wheelchairs or mobility scooters will have the vacations of their dreams.
The good news is, there are a lot of wheelchair friendly cruises out there. Which makes cruising an excellent choice for travelers with mobility issues.
So what are the features of a wheelchair friendly cruise? Let's cover some highlights of what you should look for before you book.
Wheelchair Accessible Staterooms
When booking a wheelchair friendly cruise, the first thing you'll want to evaluate is the accessibility of their staterooms.
According to Travel Weekly, all ships that sail in US waters are required to comply with the Americans with Disabilities Act (ADA). That means every major cruise line with a US port offers wheelchair accessible staterooms onboard.
Some features of accessible staterooms include:
Wider doors to accommodate wheelchairs
Ramped thresholds to the bathroom and balcony
Roll-in showers with fold-down benches
Bathroom grab bars and raised toilet seats
Handheld showerheads and lowered sinks
Lowered closet rods and lowered safes
Ample turning radius
Generally speaking, newer and bigger ships will have more accessible cabins than those that are older and smaller. Regardless of ship size, though, accessible staterooms are limited and held specifically for guests with disabilities. Many cruise lines will ask guests to fill out Special Needs Forms upon making their accessible stateroom reservation to make specific arrangements for accommodation.
A Note on Mobility Scooters
If you use a mobility scooter for long distances, but don't require a wheelchair accessible stateroom, you also have the option to book a standard cabin. Scooters must be stored inside the stateroom, though, so it will have to fit through the door. If yours is wider than the minimum of 23″, then you can rent a scooter at a reasonable price from third-party vendors. When you board, it'll be waiting for you in your stateroom.
Onboard Accessibility for Wheelchair Users
But of course, you don't plan to spend your entire vacation in your stateroom. That's why it's important that the rest of the ship be accessible, too.
Here are just a few of the features of wheelchair friendly cruise ships:
Wide corridors
Automatic doors
Gradual inclines
Ramps and elevators
Accessible public restrooms
Pool and hot tub lifts
Lowered tables and counters in shops, casinos, and guest services desks
Preferred seating at theaters and shows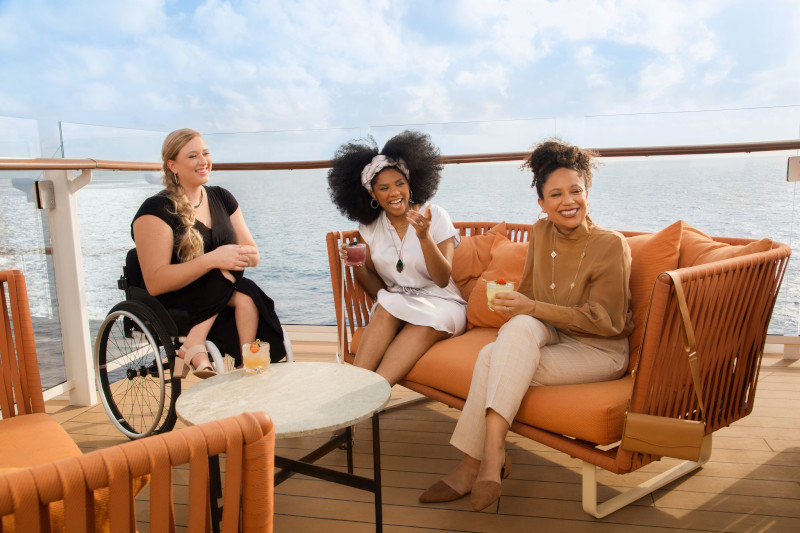 In addition to ship design, cruise lines such as Royal Caribbean and Celebrity Cruises will provide additional boarding and departure assistance at the piers, and can arrange for accessible transportation to and from the airport.
Wheelchair Accessible Shore Excursions
Accessible shore excursions are widely available throughout the United States, Caribbean, Baltic, and Mediterranean in ports where there is a dock. You can board the wheelchair accessible White Pass Scenic Railway in Alaska, visit the ruins of ancient Pompeii in a wheelchair accessible van, or simply rent a beach wheelchair to soak up the sun.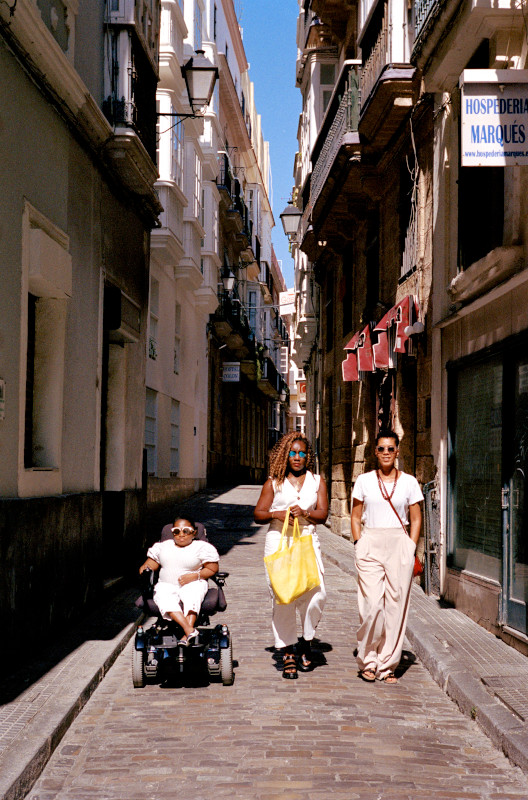 Unfortunately, ports that require a tender aren't wheelchair accessible. (A tender is a smaller boat that transfers passengers from the cruise ship to the shore.) Guests who can take a few steps are able to board tenders and bring a collapsible wheelchair, or even a lightweight folding mobility scooter, for getting around on land. Others may wish to find itineraries that exclusively serve docked ports – or you could stay on board and enjoy the uncrowded ship. (That's what I did on my last cruise. While everyone else tendered in Cabo, I laid by the pool and relaxed in peace.)
The Best (and Worst) Wheelchair Accessible Cruises
The Best Wheelchair Friendly Cruises
In my opinion, Celebrity Cruises is a standout for accessible cruising. In 2022, they won Travel Weekly's Gold Magellan Award for Accessibility Inclusivity, and they pride themselves on providing an excellent cruising experience for everyone.
For families looking for the best wheelchair accessible cruise ship, I'd recommend Royal Caribbean. Their private island, Perfect Day at CocoCay, is largely accessible, with complimentary beach access wheelchairs, ramps, pool lifts, and lower counters at the bar
The Not-So-Wheelchair-Friendly Cruises
Many river cruises that operate outside the United States aren't truly wheelchair accessible. Most companies allow only collapsible wheelchairs, and require some degree of mobility to get on and off the ship – especially in an emergency.
Additionally, it's hard to find a wheelchair friendly expedition cruise, like those to Antarctica and the Galapagos. These itineraries often rely on the use of Zodiacs, which are small inflatable boats that can't accommodate wheelchairs.
Plan Your Cruise With an Accessible Travel Advocate
Don't be intimidated by cruising with a wheelchair. With me as your Accessible Travel Advocate, I'll help arrange for accessible stateroom reservations, rental and delivery of wheelchairs or scooters, coordination of accessible shore excursions, and so much more.
Send me a message to start planning your next cruise. Together, we'll make sure you have the accessible travel experience you desire – and deserve.