Some people may say that cruising isn't for the introverted. But as someone who self-identifies as an introvert, I dispute that assertion wholeheartedly. Just because you need alone time to recharge your batteries doesn't mean you shouldn't – or can't! – enjoy the cruise life. In fact, I think cruising is one of the best ways for introverts to see the world. Sure, there's plenty of activity going on around the ship, but there are plenty of opportunities for silence and solitude as well.
If you're an introvert who's contemplating a cruise, allow me to convince you to set sail. Here are my top 5 tips for introverting on a cruise, along with my recommendations for the best cruises for introverts.
Tips for Introverts on Cruises
Research your cruise thoroughly.
Every cruise is different. Different lines cater to different demographics, preferences, and personalities. Virgin Voyages, for example, caters to a lively, social crowd, while Holland America Line is geared toward those who are a bit more laidback. So it's important to understand the ethos of a cruise line before you book.
Beyond that, make sure you're choosing an introvert-friendly itinerary. Holiday cruises tend to be super packed with super high energy. And you certainly don't want to get trapped in the middle of a floating rock festival.
Book a balcony stateroom.
My personal cruise philosophy is ABAB – Always Book A Balcony – but this is particularly crucial for introverts. For me, the best part of being on a cruise ship is being able to take in those endless ocean vistas while smelling that fresh sea air. If you're staying in an interior stateroom, you'll have to be in a public space to enjoy the views. But on your own private balcony, it's like the whole ocean is yours and yours alone.
Arrange for private shore excursions.
Does sitting on a bus with 40 other people sound like your idea of a nightmare? Then traditional shore excursions may not be your thing. Don't fret, though. You can still partake in exciting adventures or cultural immersions while you're in port by booking private tours. Many cruise lines, like Celebrity or Seabourn, will put together individually customized journeys for you. Alternatively, you could book a private tour through Viator.
The point is, there are many ways to explore destinations without being forced to interact with strangers.
Request a table for one.
While the days of huge communal tables on cruise ships have sort of died down, you may find yourself assigned to a dinner seating with other guests. If that's not your thing, no sweat. Simply go to the dining reservations desk upon boarding and ask to be seated solo (or just with your preferred travel partner/s). Then you'll never have to make awkward small talk over your bowl of French onion soup.
Identify the quiet spots on boards.
Even if there's a raucous belly flop competition going on at the pool, you can always find a respite from the party scene. When I need a break, I always retreat to the quiet spots on cruise ships. The library is an obvious one, but there are some hidden gems, too. That salsa bar that's hopping at 10pm might be a ghost town in the afternoon. The shuffleboard deck is often pretty quiet, too. And there's always the spa.
Take some time to identify these areas early on in your cruise so you can make a quick escape when necessary.
The Best Cruises for Introverts
Celebrity
In my opinion, Celebrity Cruises is great for everyone – introverts included. Their whole vibe is "Relaxed Luxury," and I've personally found the culture onboard to be fun without the rowdiness – it's sumptuous without being stuffy. And on Edge-class ships, the infinite veranda staterooms turn your entire living space into the balcony. Who needs to sit out on deck when your private cabin looks like this?
Holland America
Holland America Line is geared toward an older, quieter, slightly more sophisticated crowd. Their fleet is designed with "easy elegance" in mind. My favorite part of Holland America ships? The Explorations Café, which is their version of the library/reading room that you'll find on other cruise lines. Escape here to take in beautiful views while playing a quiet game of chess or flipping through a magazine.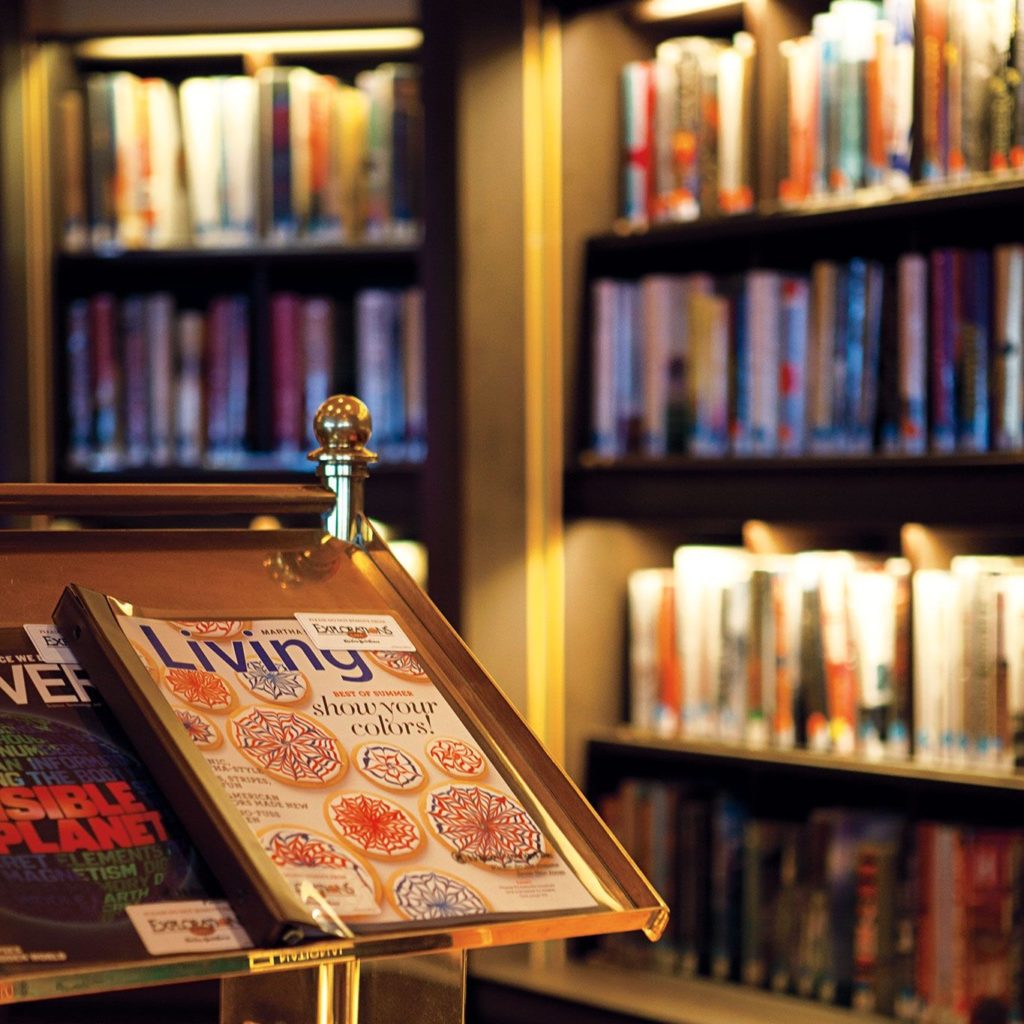 Seabourn
For introverts with big budgets and high standards, Seabourn is the perfect cruise line. These ultra-luxury small-ship cruises offer all oceanfront suites. It's almost like sailing on a private yacht. To add to that sense of exclusivity, Seabourn has "The Bespoke Collection," which allows guests to customize their shore experiences with private cars and drivers, guides, yachts, and reservations. So you'll never have to climb aboard a crowded tour bus to see the sights.
Introverts: I'll Help You Find The Best Cruise
As an introvert with wanderlust, I totally understand the unique needs of those who have a strong desire to see the world but also just want to be left alone. If you're looking for the perfect cruises for introverts, I can help. Send me a message and let's get started planning the exciting-yet-introspective cruise of your dreams.