When you're putting together your cruise holiday packing list, don't forget to add a bag to take along with you for cruise excursions.
"Well," you ask, "what's the best bag for cruise excursions?"
My answer: "It depends."
I know you're getting tired of me saying that, but it's true. The best bag for a sunset catamaran ride is not necessarily the best bag for a hike on a glacier. So that's why I've put together this little guide to help you figure out the best bag to take on your specific shore excursion.
The Best Backpack for Cruise Excursions
The WATERFLY Lightweight Packable Hiking Backpack is my choice for best cruise excursion backpack. (I took this to Alaska and used it on every single excursion!)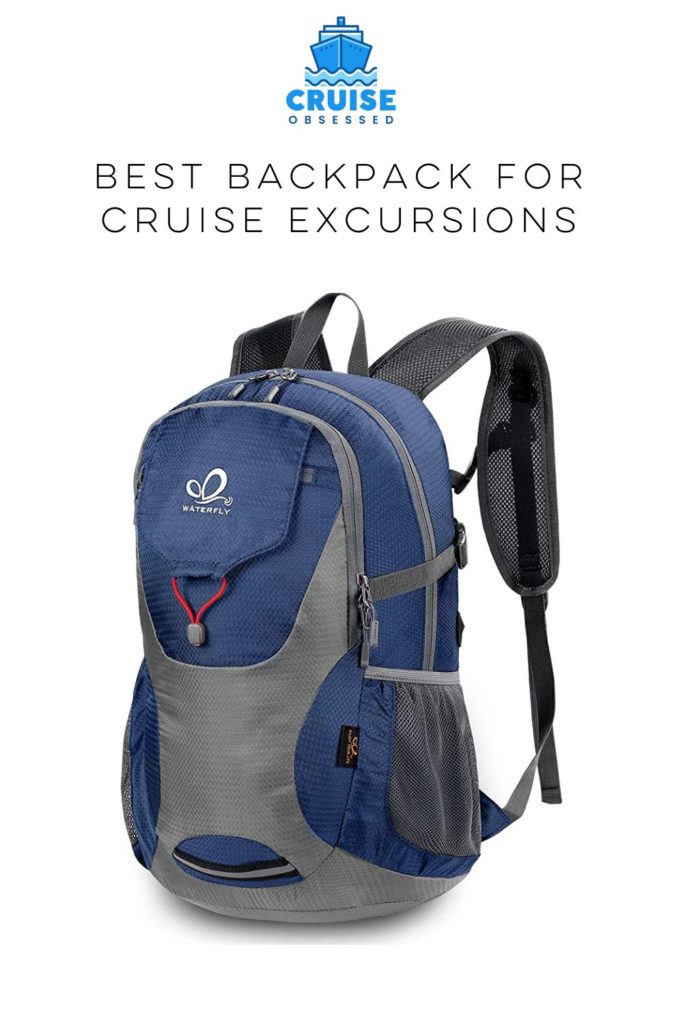 This backpack is lightweight yet roomy enough to hold a change of clothes, a bunch of souvenirs, and a couple of water bottles. It also has a waterproof pouch to keep all of your important documents and electronics safe from the elements, so it's perfect for rainy days. Plus, it folds up into a tiny little square, making it super easy to stick to your plan to pack light for your cruise.
Take along this backpack for active cruise excursions like:
Hiking on a volcano in Santorini
Whale watching in Juneau
Riding an ATV in Ensenada
The Best Beach Bag for Cruise Excursions
The Samsonite Foldaway Packable Tote Sling Bag is the perfect bag to take on beachy cruise excursions.
Unlike traditional beach bags that are stiff and difficult to pack, this tote folds down into a small portable pouch, just like the backpack. Durable and waterproof with oversized shoulder straps, you can tuck all your essentials in here before enjoying a day in the sun.
Take this beach bag for laidback excursions like:
A resort day pass in Cozumel
A beach break in Ibiza
The Best Crossbody Bag for Cruise Excursions
For a day of strolling around port cities, bring the WATERFLY Crossbody Sling Bag.
Crossbody sling bags are both versatile and compact, allowing you to explore new destinations hands-free. Store all your touring essentials, from guidebooks to sunscreen to tissues, while keeping everything within arm's reach. It's also small enough to pack in your suitcase, so you don't have to worry about an additional carry-on.
Choose this crossbody bag for sightseeing excursions like:
A seaside stroll in Cinque Terre
A shopping trip in Willemstad, Curacao
A visit to Shibuya Scramble in Tokyo
The Best Belt Bag for Cruise Excursions
If there's one bag that's versatile enough for any cruise shore excursion, it's this Everywhere Belt Bag.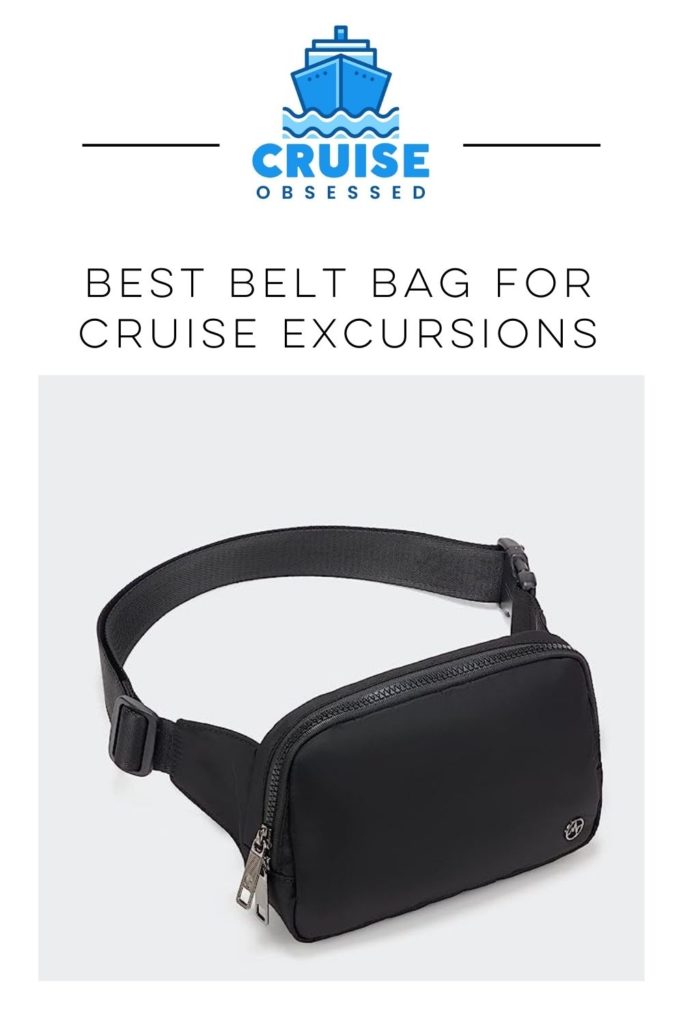 Quite literally, I wear this belt bag everywhere, even when I'm not on a cruise. But it's absolutely perfect for any shore excursion you might take, especially ones in crowded areas. You can keep all your items within arms' reach – and always within sight. Also? Tiny enough to stick in your carry-on without taking up much space at all.
Pack this belt bag for cruise excursions like:
An airboat ride in the Florida Everglades
A tour of Butchart Gardens in Victoria
A walk through the Ancient City of Ephesus
The Best Dry Bag for Cruise Excursions
If you have water excursions planned, then you need this Waterproof Pouch with Waist Strap.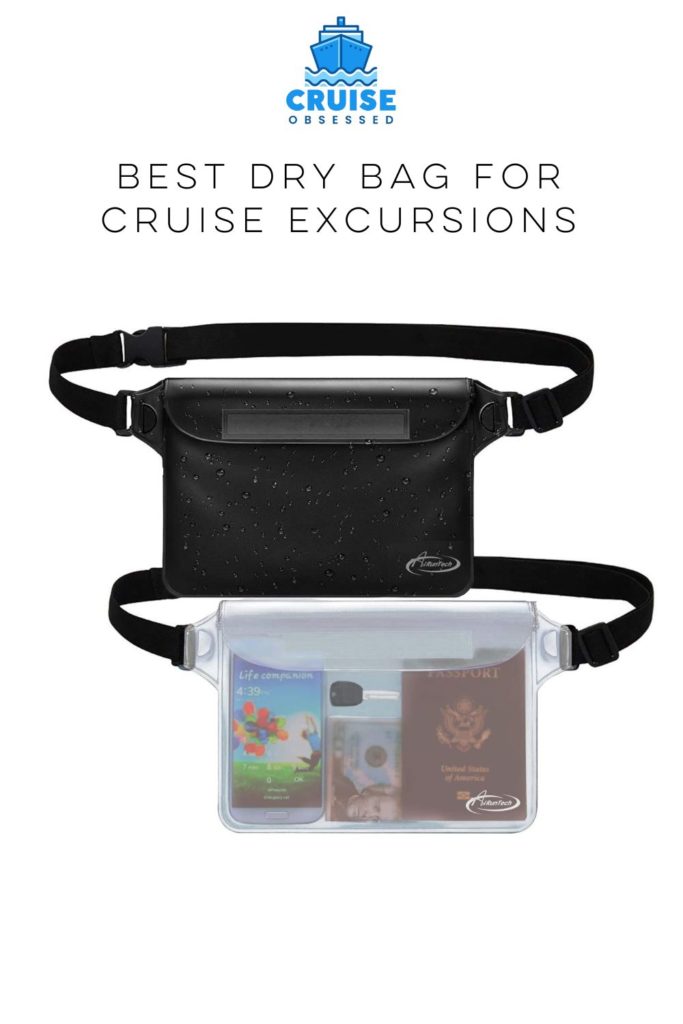 There's this really strong Velcro closure across the top flap that keeps everything inside super protected from the water. And as far as dry bags go, they're kind of chic. (I said, kind of.) You can wear them on your waist or across your chest, or tuck them inside a larger bag if you're doing an excursion where you need more storage.
The best part is that this particular brand comes in a two-pack, so there's one for you and one for a partner or friend.
Pack this dry bag for water excursions like:
Snorkeling in Belize
Kayaking in Ketchikan
Cliff jumping in Punta Cana
The Best Purse for Cruise Excursions
For walking tours and sightseeing excursions, I love a classic crossbody bag like this one from Nautica.
What I love about this particular purse is that it's waterproof, so if you get caught in an unexpected downpour, the stuff inside your bag won't get drenched.
A purse is the best choice for touristy excursions like:
A visit to the Colosseum in Rome
A walking tour of Vancouver
A tequila tasting in Cancun
What's Your Favorite Bag for Cruise Excursions?
So, did I miss any vital cruise excursion bags? Maybe you've got a really great suggestion. If so, I'd love to hear it! Please share it in the comments.
* I may receive a small commission (finder's fee) for some of the items linked to on this page. Thank you for supporting the brands that keep Cruise Obsessed up and running!