You did it. You've finally gone ahead and booked your first cruise. Congratulations! You're about to embark on the best vacation of your life.
But before you board the ship, you've got to pack your bags… and there's a lot of stuff you'll have to bring. Between formal nights, excursions, and lounging around by the pool, how are you supposed to fit everything you need into one suitcase?
Trust me: it can be done. In fact, when I cruise, I only ever take one carry-on suitcase and one small tote bag – and I always have everything I need.
If you want to be a super-packer, too, check out these top tips on packing light for a cruise.
How To Pack for a Cruise in a Carry On
1. Choose Your Bags Wisely
Carry-on suitcases come in a variety of styles. My personal favorite is a rolling duffel bag, like this one from High Sierra, because of the soft sides and the ability to hoist it over my shoulder if the escalator is out and I need to take the stairs. You don't need to buy one that's too expensive, but don't get the cheapest one, either, or you'll wind up losing a wheel as you run to the port.
For my personal item, I use this weekender bag. It's really roomy, but I like it for the zipper compartment on the bottom that's designed specifically for shoes. It holds up to three pairs (and I'm a size 9, women's), leaving lots of extra room in my suitcase. It also has a trolley sleeve, so when I'm walking through the terminal, I slide this on my rolling suitcase and take off without a worry.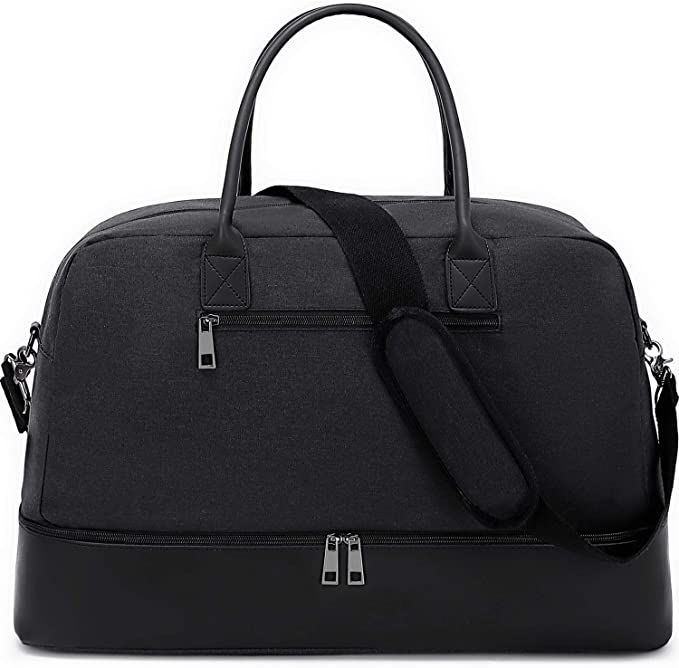 2. Design a Capsule Wardrobe
A capsule wardrobe is an assortment of pieces from your closet that you can mix and match to create a bunch of different outfits. For example, a simple black dress can be casual with a pair of sneakers and a denim jacket, or more formal with a snazzy belt and heels. By wearing the same pieces several times and in several different ways, you'll be able to make the most of your limited suitcase space.
A capsule wardrobe for seven nights in Alaska will look a lot different than one for three nights in the Caribbean, so you'll have to go through your clothes to decide what might work for you. I've covered this in more detail – see my Alaska cruise capsule wardrobe post and my tips on what to wear on a cruise to the Mexican Riviera – but for now here's a sample of how I styled one pair of pants two different ways.
Apps can help you plan your capsule wardrobe without making a mess of your bedroom. As an Android user, I like Smart Closet, but my friends with iPhones swear by Stylebook.
3. Use Packing Cubes
Don't just toss your clothes willy-nilly into your bag. Keep it civilized with packing cubes. Not only do packing cubes help you find what you're looking for easily, but compression packing cubes like these maximize your limited suitcase space by squeezing all the air out of your clothes. Roll up your clothes (or fold them Marie Kondo style – it's up to you!) before zipping them into the cubes for maximum efficiency. I find I need four of them for a seven-day cruise: one large for dresses and bottoms, one medium for tops, and two small for undergarments, bathing suits, and pajamas.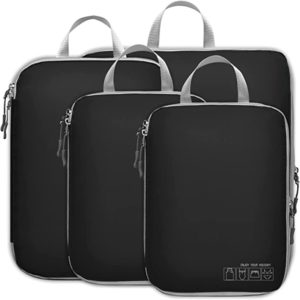 4. Bring Clothing Care Essentials
Now I know what you're thinking: Aren't my clothes going to get all smooshed in those compression cubes? And if I'm supposed to wear the same shirt more than once, what happens if I spill chocolate on it? Never fear: there's a solution for both of these problems.
To combat wrinkles, you'll want to bring a wrinkle release spray. Most cruisers swear by Downy Wrinkle Releaser for its quick action and fresh scent. (Don't bother trying to pack an iron or a steamer, as those are prohibited on cruise ships; see below for other banned items.)
For stains, pack a fast-acting stain stick. Personally, I like Tide To Go pens, since they're effective and they take up virtually no room in my suitcase.
5. Organize, Organize, Organize
Organization in your bags extends beyond packing cubes for your clothing. Here are a few specialty organizers that I can't live without:
Family passport wallet. There's enough room for our passports, vaccination cards, boarding passes, and any other documentation we need to have on hand for check in. I tuck it under my arm as I roll through security so I'm not constantly digging around in my tote bag.
Toiletry bag. This one has a nifty hook in it so I can hang it on the back of the bathroom door and free up precious tabletop space in the cabin. There's more than enough room in here for all of my toiletries, and the clear plastic compartments make it easy for me to find what I'm looking for at a glance.
Electronics & cable organizer. I bring a lot of stuff on my cruise that needs charging: my Kindle, my wireless earbuds, my smartwatch, my phone. Plus, my son has his tablet and I always pack a backup battery. This tidy little case allows me to keep them separated and visible so they don't end up tangled in the bottom of my bag.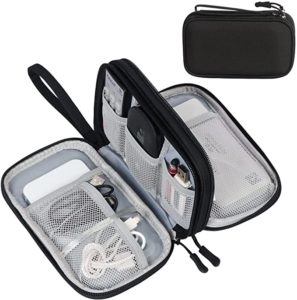 6. Think Travel Size
Yes, I mean toiletries. Take a walk down the travel aisle at your local drugstore and pick out a small shave gel and a travel-sized toothpaste. Can't live without your favorite night cream or shampoo? Transfer your toiletries into jars like these and pouches like these to save on space.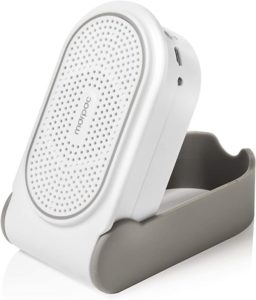 If there's anything you can't live without, see if you can find a travel-size version of it for your cruise.
7. Leave Prohibited Items at Home
Now that you know what you should pack, here's a list of what not to pack for a cruise:
Extension cords and surge protectors
Clothes irons and travel steamers
Coffeemakers (there is more than enough free coffee available on board!)
Weapons (obvs)
Baby monitors
Booze (although your cruise line may allow you to pack a limited amount of wine or beer; check your contract)
CBD oil or CBD products
This list isn't exhaustive, and it can vary from ship to ship. For a full list of what's prohibited on your cruise ship, check with your cruise line.
8. Make a List Before You Pack
I cannot stress this enough: making a list before you pack allows you to look for gaps ("I'm going to need a strapless bra for this halter dress!") and ensure you don't miss anything when you're finally getting your items together. I like to type mine up in Word or Evernote, then print it out and set it next to my suitcase. As I put each item in my bag, I cross it off the list. This way, I don't accidentally forget anything.
How Do You Pack Light for a Cruise?
Did I miss anything? If so, let me know in the comments.
* I may receive a small commission (finder's fee) for some of the items linked to on this page. Thank you for supporting the brands that keep Cruise Obsessed up and running!