Happy New Year! I just spent the holidays on a Royal Caribbean cruise to the Mexican Riviera. Our itinerary included stops in Cabo San Lucas, Mazatlán, and Puerto Vallarta, as well as three full sea days to explore everything that Navigator of the Seas has to offer.
Figuring out what to wear on the cruise was a bit of a challenge. When we departed, Los Angeles was chilly and drizzly, but the beaches along the Pacific Coast of Mexico were sunny and 80 degrees. While planning my capsule wardrobe, I specifically looked for items I could layer to create a variety of outfits.
And when XCVI offered to send me some clothes to pack for the cruise, I was thrilled to give them a try. XCVI makes amazing cruise clothes for women – comfortable, stylish, and perfect for layering. They offer plenty of options for active excursions, chill sea days, and fancy evenings. Even though they sent me some free clothes, everything I wrote here is 100% my own opinion!
If you're looking for cruise clothes inspiration, here are some ideas of what to wear on a cruise to Mexico.
What to Wear on a Cruise During the Day
Sea days are my favorite. It's just hours and hours of uninterrupted time to do whatever you'd like: participate in a trivia game, take a sushi making class, read a book on your balcony, or simply take a nap by the pool.
I did all of these on my cruise last week. In fact, most of these activities took place on the same day. Which is why it's important to wear versatile clothes you'll be comfortable moving around in and wearing for long stretches. Because no one wants to waste time executing an outfit change between a pickleball match and napkin folding lessons.
Cruise Outfit Ideas: The Jumpsuit
My absolute favorite item of clothing I brought with me? The Kele Jumpsuit.

Not only was it comfy, soft, and breathable, but it was absolutely adorable. I can't tell you how many compliments I got on it. It was also great for layering – whether you're wearing a long-sleeved t-shirt underneath it, or a light jacket on top. The fabric is durable yet lightweight, so it kept me warm in chilly areas of the ship and cool on deck when the sun came out.
Cruise Outfit Ideas: Leggings and Layers
Here's another one of my fave outfits, featuring the Raw Edge Safari Jacket.

Layers were important for this cruise, but a knit cardigan was just too heavy. This jacket from XCVI was an absolute gem – light, breezy, and super cute. Paired with a t-shirt, leggings, and my trusty white Pumas, I felt confident and comfortable as I raced from shuffleboard to the buffet to the chat with the Captain.
What to Wear on Cruise Excursions in Mexico
Most of our time in Mexico was spent on the beach, which meant I was wearing my go-to high-waisted yet sexy bikinis and a coverup. But in Puerto Vallarta, we went on a food tour, which meant lots of eating – and lots of walking. With a cloudless sky and the temperature hovering around 80 degrees, I needed to keep cool. But I also wanted to look cool.
Cruise Outfit Ideas: The Sporty Skirt
Which is why I wore the Hargen Tiered Skirt with a simple ribbed tank top and (again) my trusty white Pumas.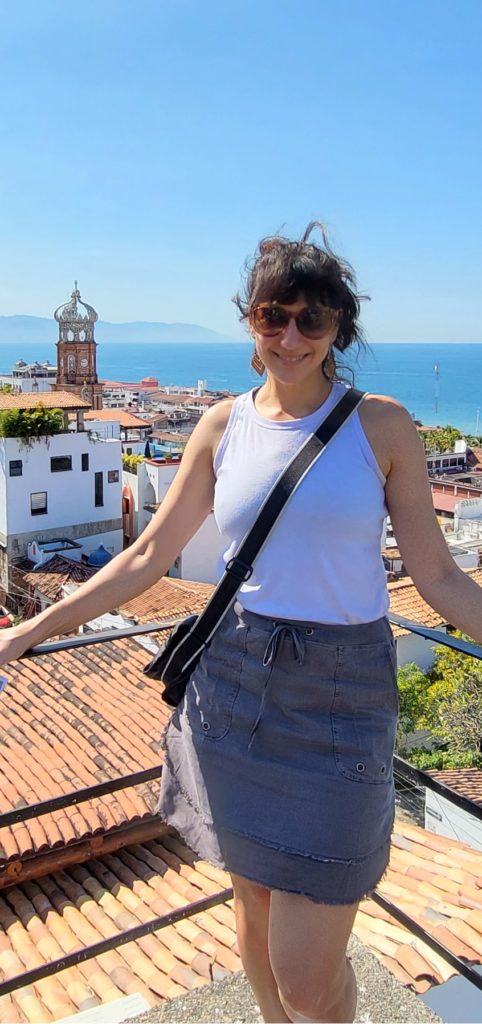 This skirt matches the Safari Jacket, so when I hopped back onboard that night, I slid it on to cover up when I was walking around on deck.
What to Wear For Cruise Formal Night
"Formal night" is sort of a misnomer nowadays. You'll still see people dressed to the nines in cocktails dresses and tuxedos – and frankly, I think those people are awesome – but the reality of modern travel means we don't often have the space in our luggage to pack sequins and cummerbunds. So when I dress for formal night, I aim to look fancy yet practical.
Cruise Outfit Ideas: The Little Black Dress
The Niccola Crochet Dress was the ideal convergence of fancy and practical.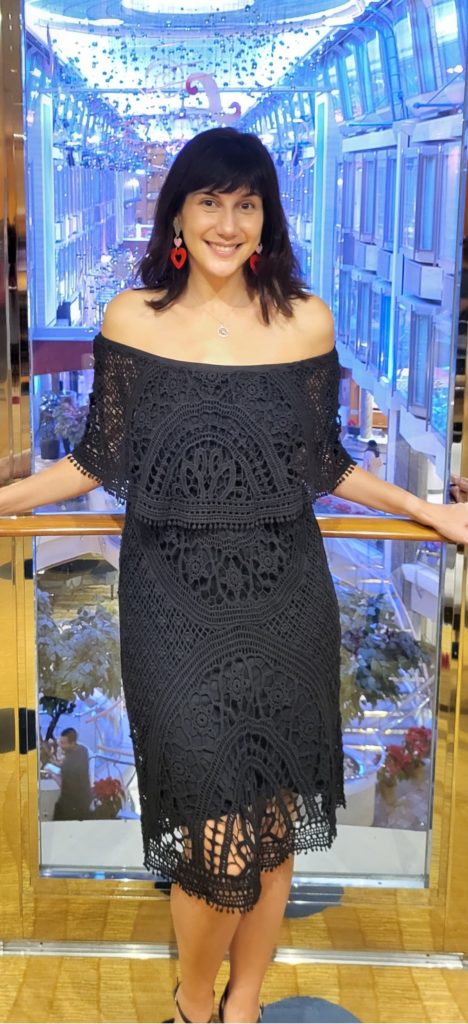 It packed easily, didn't wrinkle, and looked stunning with black heels and statement earrings. This was another item of clothing I received a lot of compliments on. I think I might need to get it in white, too! It'll be perfect for the cruise to the Bahamas I've got coming up in 38 days… not that I'm counting or anything.
Mexico Cruise Capsule Wardrobe: Packing List
In case you're interested in my packing list, here's what I brought with me to wear on my cruise to Mexico:
Two t-shirts
Three tank tops
Denim shorts
Black leggings
Orange maxidress
Striped sundress
Black heels
Black Birkenstocks
A beach coverup
Planning Your Packing List
Need help planning your cruise capsule wardrobe? Have specific questions about any of the pieces I've shared here? Leave a comment and let me know!