If you've been reading my blog for a while, you know I'm an advocate for packing light. But it's also important to pack smart. That means cutting down on unnecessary items in your luggage to make room for the real cruise essentials.
What are cruise essentials, anyway? In my view, they're things that are impossible to find on board and can help you if you're in a bind. Basically, if you forget them, it can really put a damper on your cruising experience.
Check out this list of my top cruise essentials to find out what you need to bring on a cruise.
Travel Noise Machine
The Yogasleep GO Portable White Noise Machine isn't just essential for cruising; it's essential for any type of travel.
Nothing is more important than a good night's sleep, and a bad night's sleep can make or break your whole vacation. And while I often get the best sleep of my life on a cruise ship, I've also had some pretty noisy neighbors. On my last cruise, one of them was on the other side of a connecting stateroom door. That meant I could hear them talking pretty clearly. Which wasn't a problem during the day. But at night? I wasn't taking any chances. Instead, I turned on my sound machine, drowned out their voices, and slipped comfortably into a deep slumber.
Tide-To-Go Stain Remover
The Tide-To-Go Stain Remover is nothing short of a tiny miracle stick.
On the second day of my last cruise, I got chocolate all over my favorite jumpsuit. This could've been catastrophic. My carefully crafted capsule wardrobe required me to wear certain pieces more than once. But a few dabs from the Tide-To-Go Stain Remover and that chocolate was history. I don't know what's in this stuff but it works. Bonus points: it doesn't take up much space in your suitcase.
Outlet Extender
Packing this Multi-Plug 3-Outlet Extender is a must for anyone who has more than one thing to plug in.
Having a fully charged phone is crucial on cruises nowadays, since everything from dining reservations to room keys is app-based. But most cruise ships only have one, maybe two, outlets. So what happens when you have more than one person who needs to charge their device? It'll be impossible to keep your travel noise machine plugged in all night, never mind use the hairdryer.
Important: Not all outlet extenders are allowed on cruise ships! You'll need one that does not have surge protection, like I've linked to above. If you try to take a prohibited kind, they'll confiscate it from you upon boarding.
Travel-Size Poo-Pourri
Not to be indelicate, but Citrus-Scented Poo-Pourri has saved my marriage.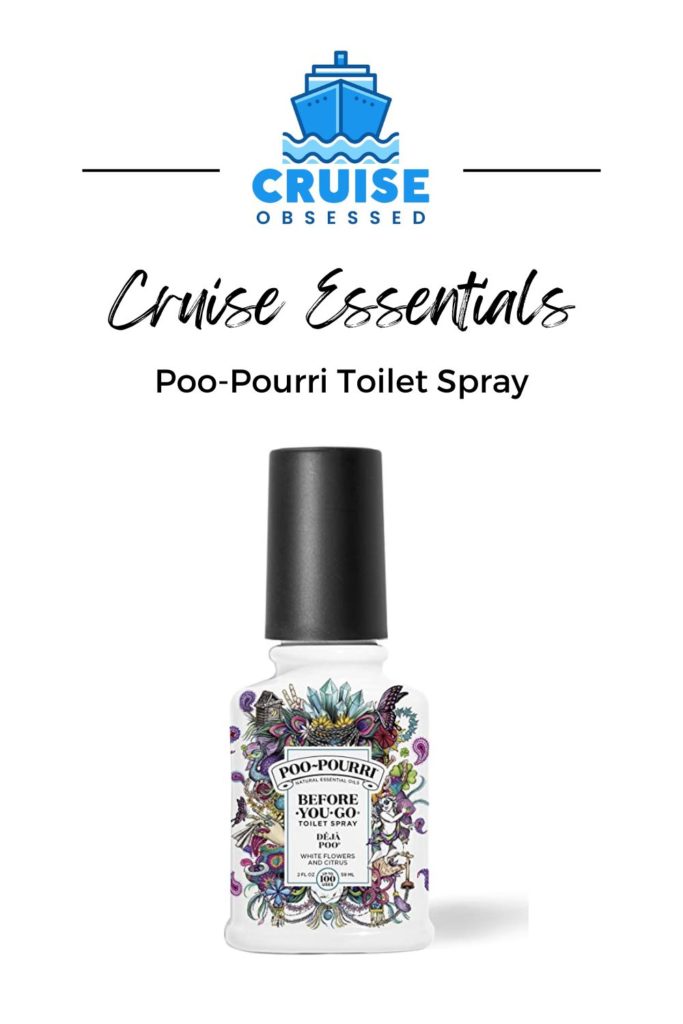 Seriously, though, cruise staterooms are small. You're living in tight quarters with other people. Spraying a little bit of this before you go is just the polite thing to do.
Magnetic Hooks
While we're on the subject of tight quarters, these Heavy Duty Magnetic Hooks can help you make the most of your limited stateroom space.
Storage is at a minimum in these cruise cabins. But did you know that the walls are all magnetic? Pop a couple of heavy duty hooks like these onto your walls and you can free up precious drawer and counter space – not to mention, keep your room organized. I use these to hang up my sun hat, my purses, and my lanyard. Plus, I use it in conjunction with this hanging jewelry organizer to keep small odds and ends both accessible and out of the way.
Towel Bands
Keep your towels from flying away on the pool deck with these Durable Towel Bands.
To be clear: I am very much against saving your lounge chair as you go fart around at the buffet for an hour. But when you're at sea, the wind can be so strong that if you get up to grab a drink from the poolside bar or take a dip in the hot tub, your towel might blow away, never to be seen again. I always fasten my towels down with these bands. Some people use towel clips, but in my opinion, these are much easier to pack.
First Aid Kit
I cannot stress the importance of bringing a well-stocked First Aid Kit.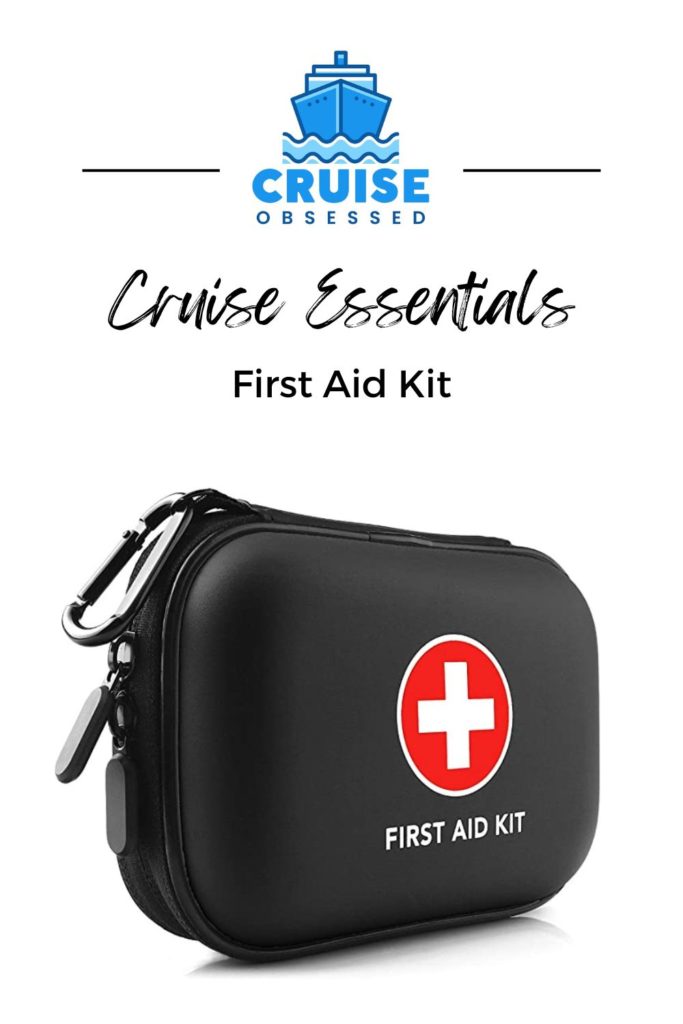 When I take a cruise, I like to pack a small pharmacy with me. That's because simple medicines like Tylenol or Advil cost a fortune in the ship's sundry shop. And no one wants to go down to the medics if they can avoid it, right? You can check out all the things I put in my DIY Cruise First Aid Kit here. This came in handy on my last cruise when a fellow traveler was in desperate need of Sudafed; I had more than enough to share with her.
What's On Your List of Cruise Essentials?
So, did I miss anything? If so, leave it in the comments below. And if I think of anything else, I'll keep this post updated.