Let me preface this post by admitting that I am not the world's biggest drinker. There was a time, say, twenty years ago, when I would've considered myself a cocktail connoisseur. Nowadays, I save my indulgence for special occasions.
And what occasion is more special than a cruise?
Cocktail menus vary from cruise line to cruise line, so it's impossible to come up with one definitive list of the best cruise cocktails. But when I'm sailing with Royal Caribbean, these are my favorite drinks to enjoy by the pool, in the Solarium, or while enjoying one of their fabulous shows.
The Best Cruise Cocktails on Royal Caribbean
Lime & Coconut
I first had this one on Navigator of the Seas at the aptly named bar, The Lime & Coconut. Located on the pool deck, they claim to be an "oasis of island vibes," and their drink menu lives up to the promise.
As a lover of all drinks fruity and tropical, Lime & Coconut hits the spot. It's a mixture of Malibu coconut rum, coconut milk, coconut syrup, guava syrup, and lime juice. One sip and you know you're on vacation.
Curaçao Cosmo
Blue's my favorite color. Blue curaçao? Not really my favorite liquor. But when I saw this cocktail had Malibu coconut rum, I was intrigued. Call me basic, but I love Malibu. And I also love this drink.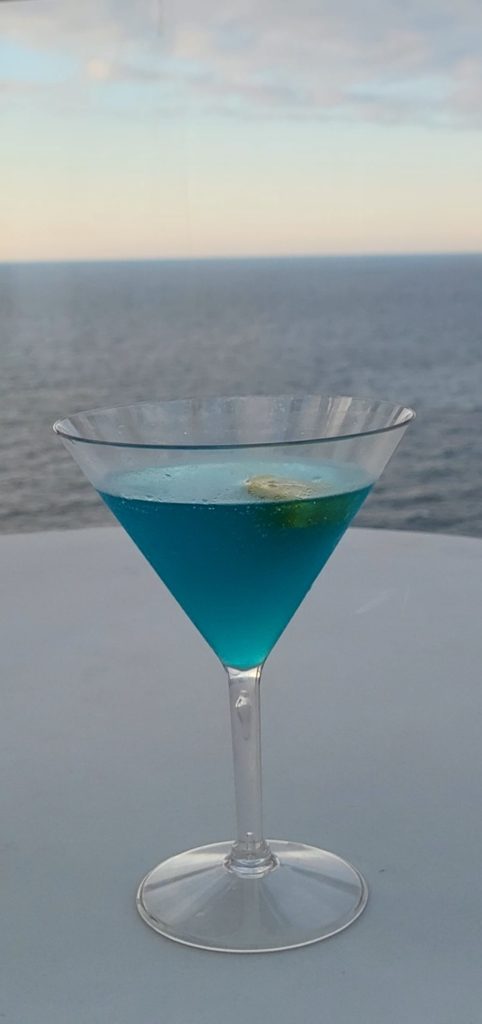 In addition to Malibu and Blue Curaçao, it also has pineapple juice, making for a sweet drink with a little bit of tang.
Goombay Smash
This is my go-to Royal Caribbean cocktail, the drink I order the moment I step foot on the ship. I originally thought this was a Royal Caribbean signature drink, but it turns out it was invented in the Bahamas. Regardless, I will forever associate this deliciousness with cruise life.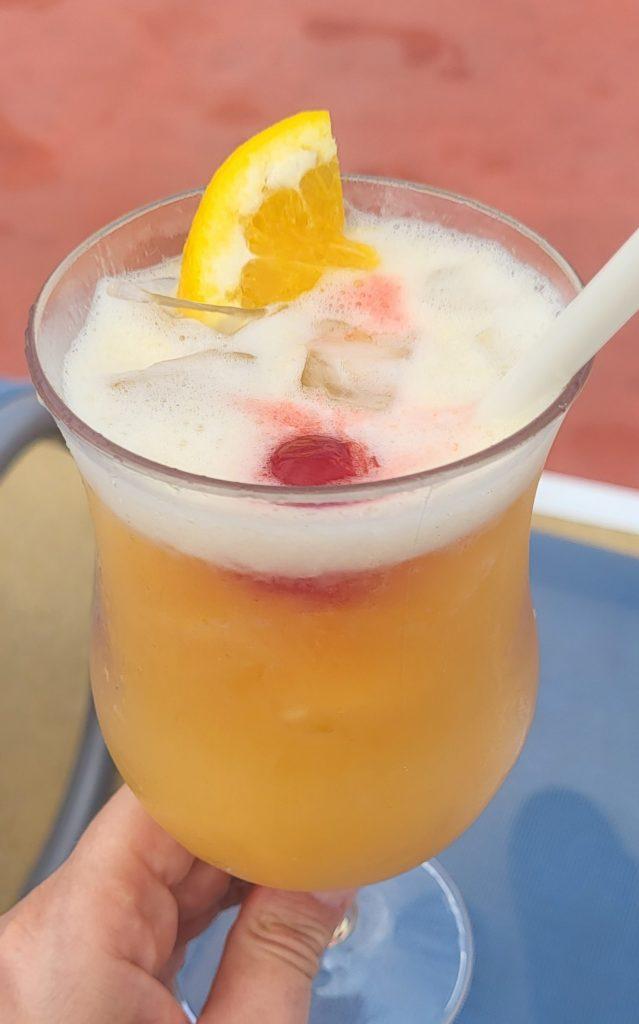 Super sweet and fruity, it's got Malibu (of course), Kraken Black Spiced Rum, orange juice, and pineapple juice. And it's always topped with an orange slice and a maraschino cherry.
French 75
I ordered this on a whim while participating in a Crossword Challenge at Schooner Bar during a seven-night cruise to Alaska. Admittedly, it was a bit early in the day for such a formidable drink, but I loved every sip of it.
Unsurprisingly, I lost the Crossword Challenge.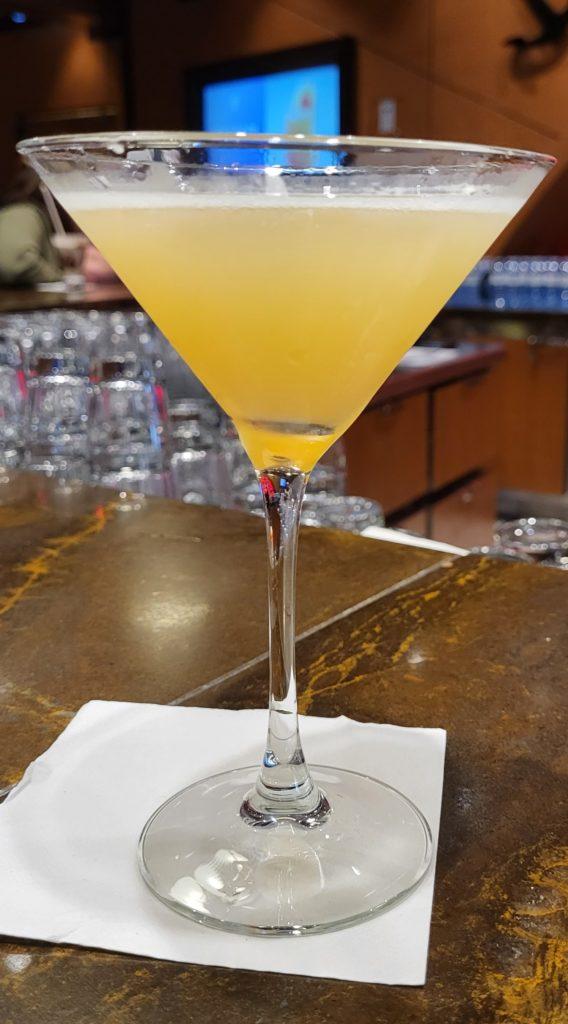 This one's got gin, champagne, simple syrup, and lemon juice, all served up chilled and fancy-like in a martini glass.
Painkiller
Like the Goombay Smash, this isn't a Royal Caribbean-specific cocktail; the Painkiller originated in the British Virgin Islands. It's tasty, though, and pretty potent. So if those Goombay Smashes aren't strong enough for you, do yourself a favor and order one of these.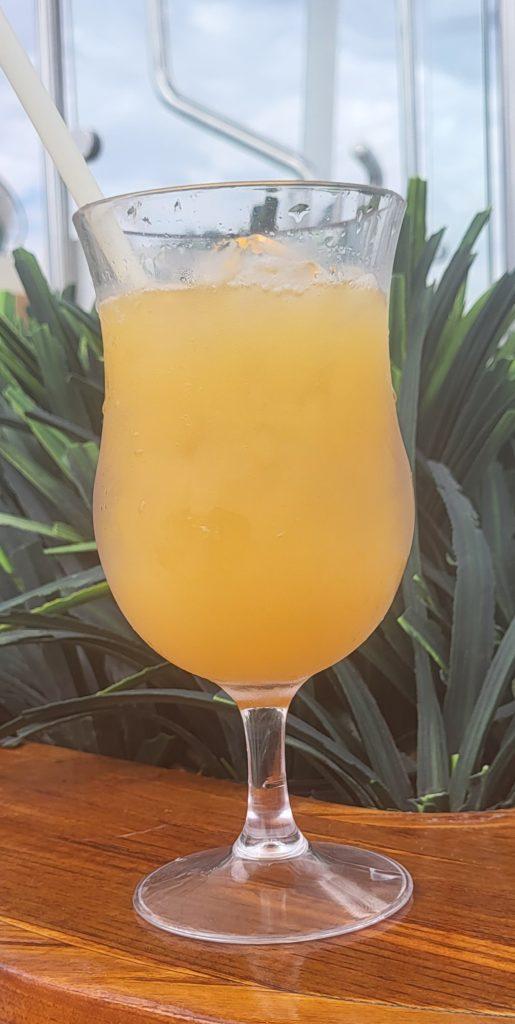 Just like most of my favorites, it's sweet and fruity, with pineapple juice, cream of coconut, and orange juice. Oh, and of course, there's the ingredient that actually kills your pain: Pusser's rum.
Honorable Mention: Free Champagne!
The best cocktail on a cruise ship is a free cocktail, which is why I'm giving this champagne an honorable mention.
Whenever we're on board, we always give into temptation and book another trip in the NextCruise office. And one of the perks of booking with NextCruise? Aside from the low down payment and onboard credit, of course.
A free bottle of champagne!
We asked our stateroom attendant for a bucket of ice and enjoyed this on our balcony while our son was at Adventure Ocean.
What Are Your Favorite Cruise Cocktails?
Leave a comment below and let me know: what are the best drinks on a cruise ship? And if you don't sail with Royal Caribbean, tell me about your favorites on other cruise lines.