Gift shopping can be stressful, especially during the holidays when you've got a hundred different people to buy for and no clue what to get them. But if someone in your life is a bit cruise obsessed, finding a gift for them is a piece of cake – thanks to this handy list of cruise gift ideas I've compiled for you.
You're welcome.
Whether you're looking to buy a Christmas gift for a frequent cruiser or a bon voyage gift for someone going on their first cruise, these 10 items are sure to put a smile on the recipient's face. (I know I'd be thrilled to get any of this!)
Cruise Gift Idea #1: Portable Phone Charger
Every cruise passenger can benefit from the iWalk Mini Portable Phone Charger. Why? Because cruising is super app-focused now. You need your phone to make dinner reservations, check showtimes, and of course, take photos of all the fun you're having onboard. All of that scrolling and tapping can drain your battery fast.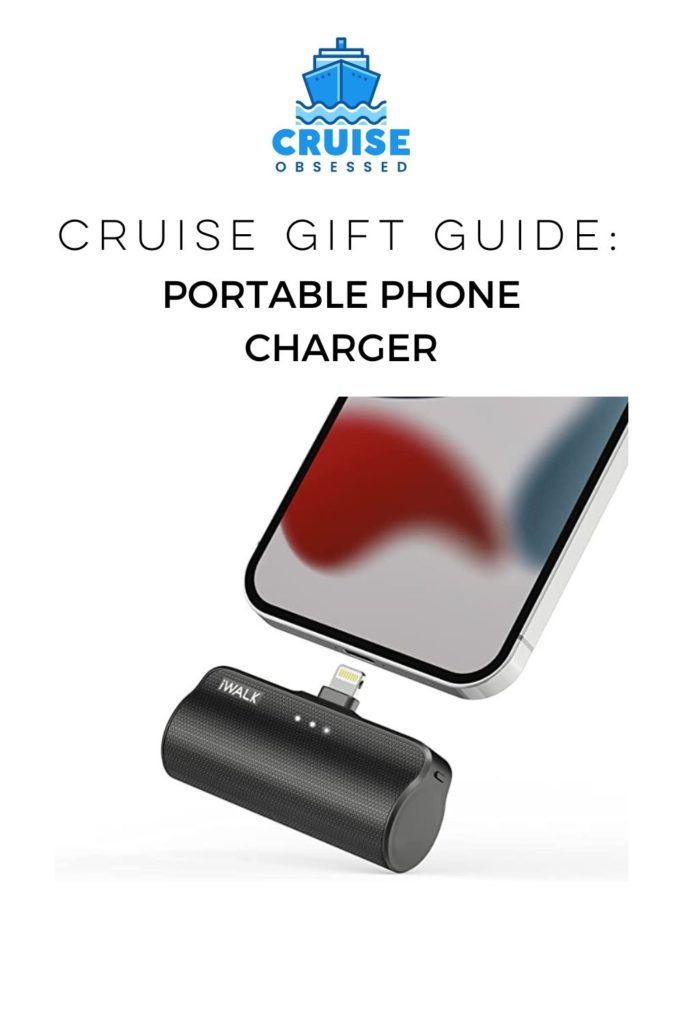 Cruise Gift Idea #2: Waterproof Phone Pouch
While we're on the topic of phones, this Pelican Waterproof Floating Phone Pouch will come in handy for any cruise passenger. Whether they're snorkeling in the a port of call or swimming in the onboard pool, they'll be able to keep their phone safe and dry while still taking all those enviable vacation photos.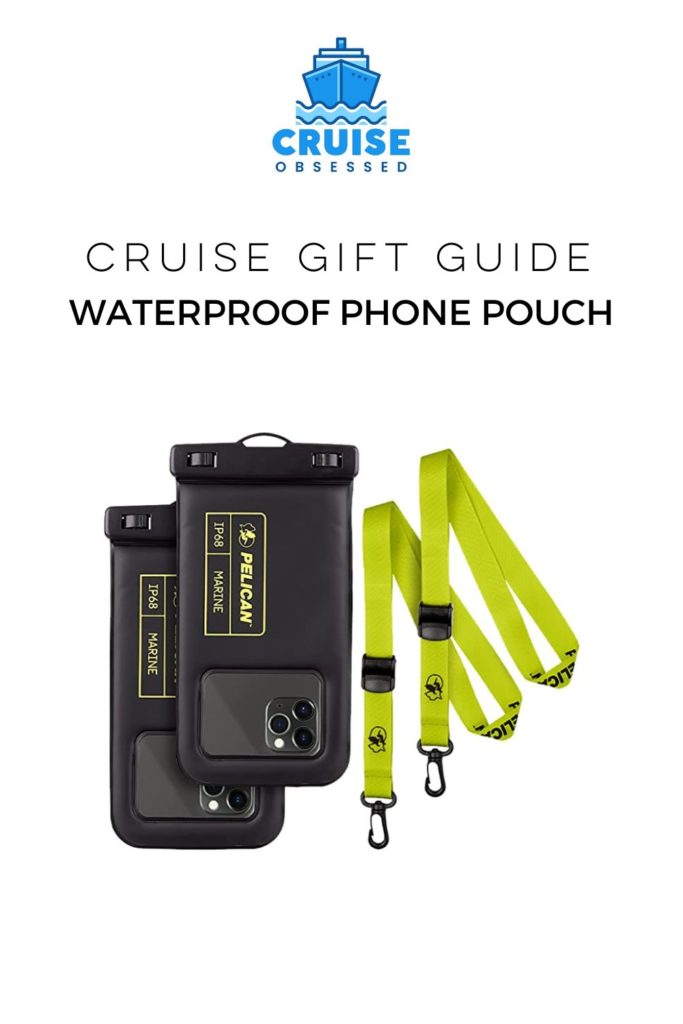 Cruise Gift Idea #3: Waterproof Kindle Oasis
Packing for a cruise means leaving heavy books at home, so a Waterproof Kindle Oasis is the perfect gift for the cruising bookworm. Not only can they bring as many books as they want, but if they drop it in the hot tub, it's no big deal. Plus the warm easy-on-the-eyes optional backlight allows them to read in a small stateroom without disturbing their cabinmate.
Cruise Gift Idea #4: Books About Cruise Ships
If you know someone who's always dreaming about their next cruise, they'll love 100 Years of Cruise Ships in Colour. It's a coffee table book with bright beautiful photos of cruise ships. Even when they're on dry land, they can still be at sea by flipping through these pages.
Cruise Gift Idea #5: Collapsible Suitcase
Since packing light is essential for a cruise, a ROLLINK Slim Carry-On Suitcase is ideal for anyone who's getting ready to set sail. Not only is ROLLINK luggage lightweight and durable, but when empty it collapses to 2″ – making it perfect to store under a stateroom bed.
Cruise Gift Idea #6: Binoculars
Every cruiser could use a pair of these Compact High-Power Binoculars to slip in their suitcase. These are particularly useful for people going on an Alaskan cruise, where there are so many opportunities to spot wildlife from your stateroom balcony. It's also not uncommon to spot whales on cruises to the Mexican Riviera or dolphins in the Caribbean Sea.
Cruise Gift Idea #7: Cruise Fund Jar
For the person who's always saving for their next cruise, treat them to the Cottage Creek Cruise Fund Jar. They can proudly display it on their kitchen counter, socking away their dollar bills with a constant reminder of their next seafaring adventure.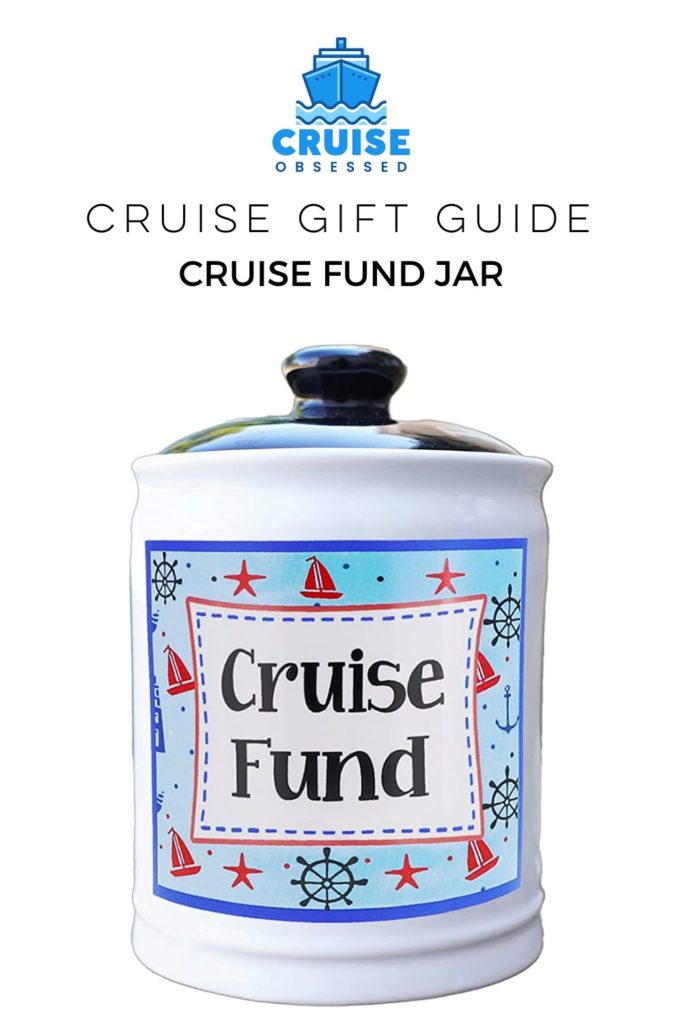 Cruise Gift Idea #8: Cruise Ship Ornaments
If you're looking for cruise gifts for Christmas, get a Blown Glass Cruise Ship Christmas Tree Ornament. I have several cruise ship ornaments on my Christmas tree; I actually like to purchase them in the onboard gift shops. (And I also like to cruise during Christmas.)
Cruise Gift Idea #9: Collapsible Water Bottle
Drinking water is freely available onboard most cruise ships, so bringing a refillable water bottle is a must. Packing them can be bulky, but this Collapsible Silicone Water Bottle tucks neatly into a carry-on.
Cruise Gift Idea #10: Fun Cruise T-Shirts
Novelty t-shirts are ubiquitous onboard cruise ships – you'll often find families wearing matching t-shirts – so your cruise-loving friend will undoubtedly be thrilled to receive a Fun Cruise T-Shirt of their own.