If you're cruising with Royal Caribbean sometime soon, you might see Wonderland listed as one of your specialty dining options. According to Royal's official website, Wonderland is "imaginative cuisine" that's all about "pushing the culinary envelope."
Intriguing, no?
While I wouldn't categorize myself as a "foodie," I am fairly adventurous with my dining choices; I enjoy trying new dishes, and more importantly, I relish novel experiences – especially when I'm on vacation. So when we were sailing to Alaska on Royal Caribbean's Quantum of the Seas this past summer, we booked ourselves a family dinner there.
Here's a review of our experience.
The Royal Caribbean Wonderland Experience
The Ambience
If there was one word to describe Wonderland, it would be "whimsical." The moment you step through the door, you're whisked into an alternate cruise dimension where everyone's cosplaying Alice Through the Looking Glass. The servers wear Mad Hatter uniforms and the dining chairs are all oversized and mismatched.
Even the menu is invisible. You have to "paint" it with water to see what's on offer.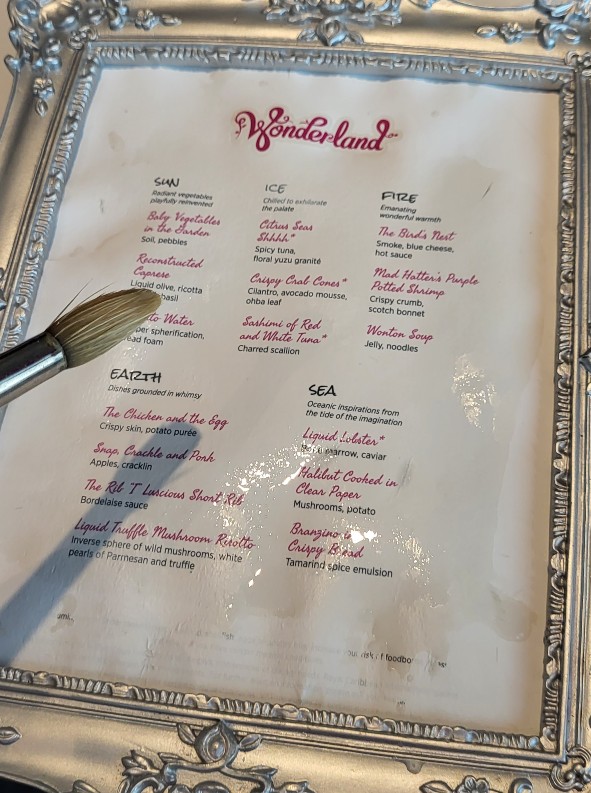 The Portions
Ordering works a little differently here than it does in the main dining room (MDR). In the MDR, you can order whatever (and however much of it) you want. At Wonderland, the servers bring your table a pre-determined selection of appetizers – around five or six in all – and you each get to select one dinner entrée.
Portions are reasonable, and between the appetizers, entrees, and desserts (which they also select for you), I left feeling completely satiated. That being said, if you're more of a "fill my plate ten times at the Windjammer" person, this might not be the right dining venue for you.
If you're open-minded and want to try something fun and different for dinner, this is the place to be.
The Food
The website promised "imaginative cuisine" and they definitely did not disappoint. The presentation of the food here was totally creative and, at times, off the wall. But even the wackiest looking dishes were absolutely delicious.
Take the "Tomato Water" appetizers. I'm annoyed I didn't get a picture of them, but they were basically just test tubes filled with clear fluid. Flecks of color were floating around inside, and the whole thing was topped with a cloudy white substance.
When the waiter set it down on our table, I'm sure I rolled my eyes. Like, come on. Tomato water? In test tubes? But after knocking it back, I was pleasantly – and scrumptiously – surprised. It tasted exactly like a shot of salad! The colorful flecks were "bell pepper spheres" and the foam on the top was reminiscent of a crouton. It was the perfect way to start the meal.
Some other delectable starters we sampled:
Spicy tuna poke served in a frozen lime and topped with yuzu granita
Crunchy wonton cones filled with crabmeat and avocado mousse
Jumbo shrimp wrapped in crispy noodles with a spicy dipping sauce
Blue cheese deviled eggs served in a cloud of smoke
For my main course, I had the branzino in crispy bread. It was good, but to be perfectly honest, the highlights of the meal were the appetizers.
And, of course, the desserts.
The Dessert
Royal Caribbean Wonderland desserts are pretty famous on the Facebook groups I frequent; people are always posting photos of those cute little toadstools and videos of the chocolate sphere melting into a puddle of hot fudge. So I was excited when it was finally time to enjoy some sweets.
What I wasn't expecting: a special celebratory gesture! Many months before, when I first booked the cruise, I'd indicated we were celebrating our wedding anniversary on the sailing (sixteen years!). I guess that made its way to the kitchen, because they decorated our plate with this lovely Happy Anniversary message.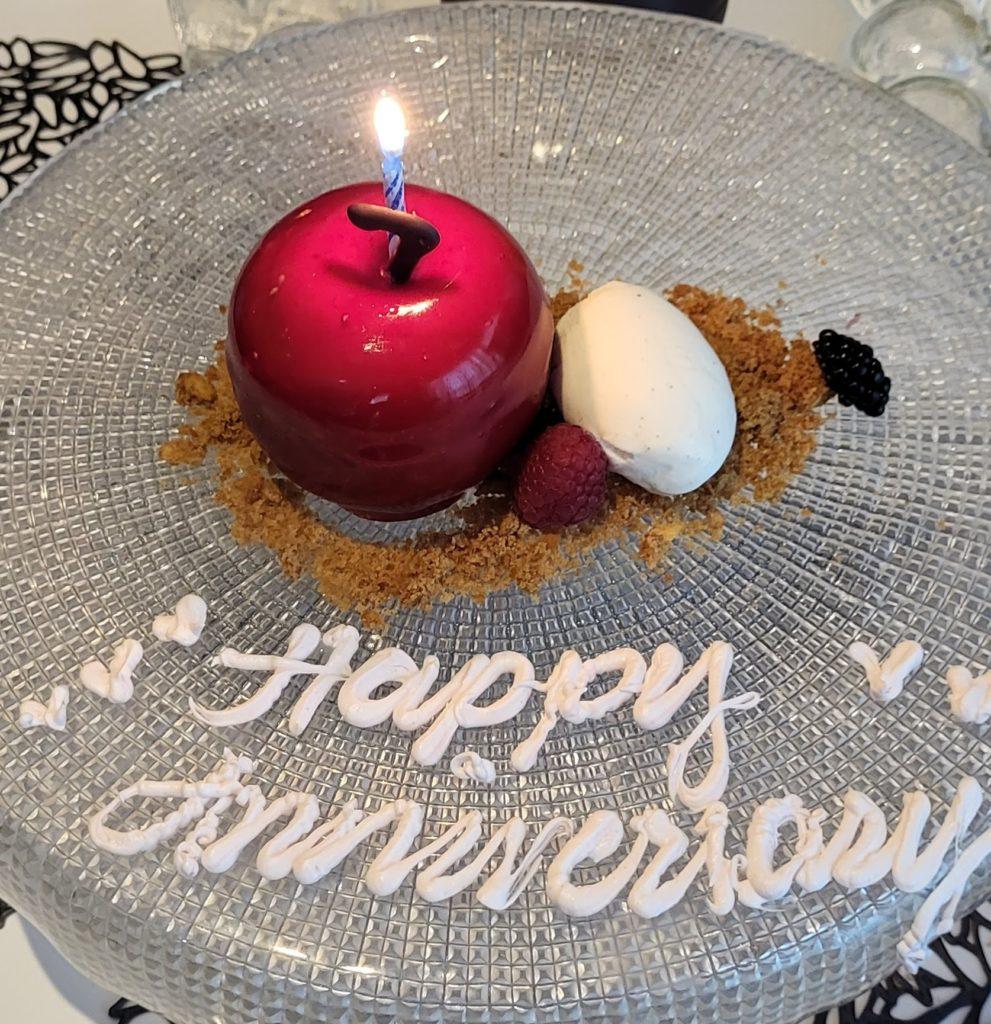 These desserts were delectable, but I ate them so quickly that to be honest I don't remember what they were. The toadstools were meringue, I believe, and I'm pretty sure the apple had some sort of fruity mousse and pound cake inside. But it was gone too fast to commit it to memory. Sorry!
How Much Does Royal Caribbean Wonderland Cost?
We're cheap. I mean, obviously we're not that cheap or we wouldn't spend so much money on cruises. But when we're on the ship, we try to cut down on add-ons since we're cruising on a budget. So we don't normally spring for the specialty dining. Why would we, when there's so much amazing food that's included in our base cruise fare?
Honestly, we only went to Wonderland because we got a voucher for one specialty dining experience for two when we booked our vacation package. However, there were three of us on this trip, so we wound up getting charged around $50 for the extra person.
All in all, I'd say it was worth it.
Which Royal Caribbean Ships Have Wonderland?
Alas, Wonderland isn't available on every Royal Caribbean ship. As of this writing, it's only available on Quantum-class and select Oasis-class ships:
Quantum of the Seas
Ovation of the Seas
Anthem of the Seas
Spectrum of the Seas
Odyssey of the Seas
Harmony of the Seas
Symphony of the Seas
Wonder of the Seas
Interested in Trying Wonderland on Royal Caribbean?
So, what do you think? Are you itching to "push the culinary envelope" at Wonderland, or are you more comfortable sticking to the tried-and-true menu at the MDR? Let me know in the comments!